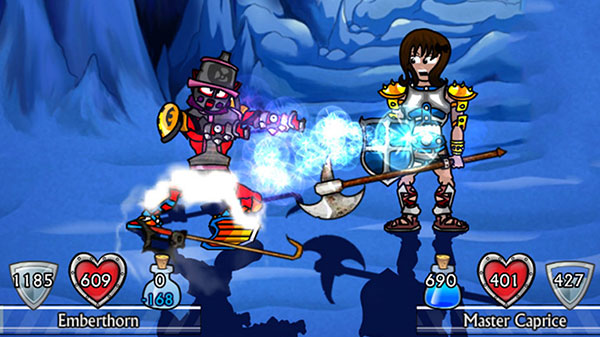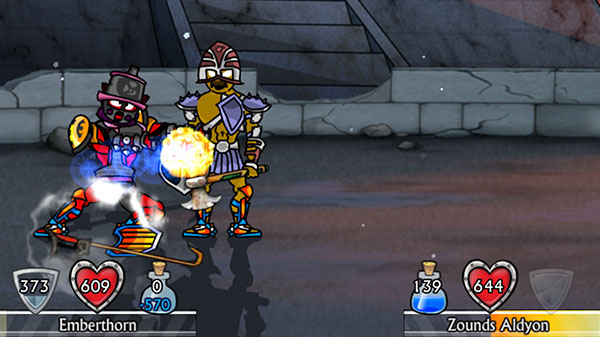 Swords and Sandals 5 Redux: Maximus Edition
Gladiator, it is time to go underground! For the first time ever, you shall step beyond the arena sands and into the dark dungeons of the world.
Swords and Sandals V Redux: Grail of Antares, the latest thrilling installment in the world's greatest gladiator game series, has arrived! A unique mix of turn based gladiatorial arena combat and roguelike dungeon crawling, S&S V also boasts an epic 20 hour adventure in which our hero will journey to the frozen frontier town of Suul's Gateway – the home of Brandor's most terrifying beasts and hardiest gladiators.
Rumours swirl that the dread Emperor Antares, once thought vanquished in the arena, has returned. They say his soul lies in wait, under the vast mountain. Will you find the Grail and destroy him, saving the realm? Or will you take his place as a new evil overlord?
Fast-paced turn based gladiator combat. Do battle against wily gladiators using hundreds of different weapons and armour sets. Use powerful new skills to vanquish your foes.
For the first time, procedurally generated roguelike dungeon crawling! Explore vast pyramids, ancient tombs and frozen caverns on your search for the grail.
A living and breathing, interactive game world. Pick locks, disarm traps and pray at shrines. Drink in taverns, talk to shopkeepers. Eat hamburgers found in dungeons!
An epic, 5 Act story that spans many chapters. Beloved characters and despised villains from Swords and Sandals games past shall guide and hinder you.
Fight all new arena champions – not just human gladiators, but mighty beasts. Take down a 40 foot tall giant spider. Dodge the flames of an ancient dragon!
All new Gladiator Sprint game mode: Compete in a lightning fast endless tournament. Level up after each battle. Tackle classic gladiator champions from S&S' past.
All new Dungeon Crawl game mode: Quick-make a gladiator and explore an endless dungeon, fighting monsters and trying to survive as long as you can. Will you hold the world record for the deepest dungeon level reached?
Five character classes to choose from. Noble knights, crafty rogues and more – each with their own unique abilities for surviving the dungeons.
This is by far the largest and greatest Swords and Sandals adventure ever made. Only the greatest gladiators will survive the dark. Will you stand among the brave few?
The Grail of Antares awaits you!